The majority of Londoners want cleaner air
The majority of Londoners want reduced traffic and cleaner air, according to a new survey commissioned by the Clean Cities Campaign.
The survey found that over two-thirds of London residents want to see pollution from traffic brought down and 59% of residents agree that after 2030 only zero-emission vehicles should be allowed into the city.
The findings of the survey are supported by a new analysis from the Environmental Defense Fund (EDF Europe) which revealed the far-reaching benefits of reducing air pollution on London's major road network, the 'Red Routes.'
The analysis shows that the area of increased asthma risk from Red Route pollution is seven times the size of the roads themselves.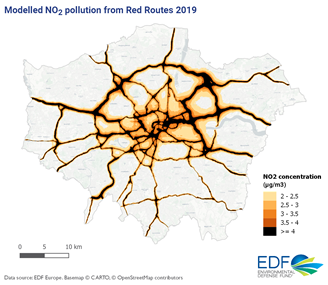 The analysis also revealed that an estimated 9% or nearly 1 in 10 of the cities children may be living in an area where they are at a significantly higher risk of developing asthma.
Based on this, more than two-thirds of respondents said they want the Mayor to do more to protect them from air pollution.
Promoting public transport, walking and more green space were some of the main measures respondents want their future mayor to do.
Barbara Stoll, campaign director of the Clean Cities campaign said: 'This survey makes it crystal clear that citizens are sick of breathing dirty air and are asking their mayors to put them, not cars, at the centre of new mobility in cities. Public opinion should be a North Star for decision-makers to make cities more liveable and sustainable.
'The London mayoral elections are a golden opportunity to show citizens their voice is being heard.'
Oliver Lord, head of policy and campaigns for Environmental Defense Fund Europe said: 'The pollution and health impacts from London's busiest roads – the Red Routes – go far beyond the streets themselves, with an estimated 9% of children having a significantly increased risk of developing asthma. We are calling on all mayoral candidates to commit to a green recovery that will transform these roads and protect future generations.'
Photo Credit – Pixabay