Oxford air pollution declined by 29% in 2020
Air pollution in Oxford saw a 29% decrease in 2020, according to new data published in the City Council's latest Air Quality Annual Status Report. 
The report reveals that for the first time since air quality monitoring began, all 71 monitoring stations across the city were fully compliant with the national legal limit of 40µg/m3.
The average reduction of nitrogen dioxide (NO2) across the entire city was 29% and particulate matter (PM2.5) reduced by 22%.
The report also reveals that during the first lockdown, Oxford saw reductions of up to 60% in NO2 levels – this is the lowest level recorded in the city since Oxford's air quality was first monitored in 1996.
In January 2021, the City Council's Cabinet approved the adoption of a new Air Quality Action Plan (AQAP) for the city.
Under the new Action Plan, the council set its own voluntary target for 30 µg/m3 of NO2 to be achieved, by 2025 at the latest—going beyond the current national legal target of 40 ?gm-3.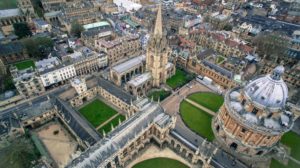 Cllr Tom Hayes, deputy leader and cabinet member for green transport and zero-carbon at Oxford City Council, said: 'The air that you breathe, the air that your loved ones breathe, is the cleanest that it has been in modern times. Nobody would want to repeat the lockdowns which reduced air pollution levels by 29%, but they have provided concrete proof that getting people out of polluting cars cleans up our air and protects your lungs.
'The city has taken action to meet a public health crisis in the last year, we should be willing to do so for that other invisible public health crisis—air pollution—which hurts the poorest and marginalised in our city the most.
'We need to back the bus, go on boosting the biking boom we've started, electrify a lot more transport, and make a success of Britain's first Zero Emission Zone piloting this year.'
In related news, earlier this year Air Quality News spoke to Cllr Tom Hayes about the new Air Quality Action Plan.
Photo credit –  Sidharth Bhatia