Milton Keynes hopes to secure funding for electric bus fleet
Proposals for new electric buses and an upgraded overnight charging depot in Milton Keynes have been shortlisted in the Department for Transport's Zero Emission Bus Regional Access (ZEBRA) scheme.
The ZEBRA scheme was announced by the Department for Transport earlier this year and invited local authorities outside of London to submit proposals for a share of £120m government investment to deliver zero-emission buses and the infrastructure needed to support them.
If successful, Milton Keynes could see more than £40m invested into the public transport network, delivering 60 new electric buses.
Cllr Jennifer Wilson-Marklew, cabinet member for climate action and sustainability, said: 'I'm thrilled with this fantastic news. We have demonstrated that Milton Keynes is fully committed to becoming even cleaner and greener and that we have the partnerships in place to move quickly to a zero-carbon future with electric buses.
'Along with growth in electric vehicles, our electric demand responsive bus service and all the work we're doing with sustainable energy, we're well on the way to a carbon-neutral future.'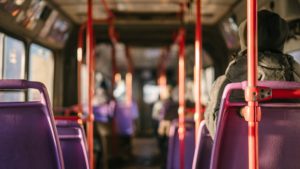 If successful, a new fully electric bus fleet could be rolled out in Milton Keynes from 2022, helping to achieve the city's 2030 carbon neutral target.
Six authorities were shortlisted under the fast-track application process, including Milton Keynes Borough Council, Cambridgeshire and Peterborough Combined Authority, Kent County Council, Leicester City Council, Warrington Borough Council, and West Midlands Combined Authority.
The six authorities will now develop their businesses cases for investment, with the strongest receiving the first tranche of government funding.
Photo by Ant Rozetsky