New billboards will provide residents in Nairobi with air pollution data
A series of new digital billboards will provide residents in Nairobi with real-time air pollution data.
The initiative is a result of a unique collaboration between the United Nations, the private sector, academia and local government.
The billboards will provide residents with real-time particulate matter (PM2.5) data, the aim is to accelerate efforts to change how transport, waste management and other services are managed so that air pollution from these activities is reduced.
To begin with, the billboards will be located in four critical locations in the city: Moi Avenue, University Way Mbagathi Way and Jomo Kenyatta International Airport.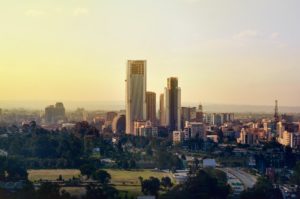 Lawrence Mwangi, assistant director of environment in charge of pollution control at the Nairobi County Government said: 'Real-time air quality monitoring will help us with the issuance of health advisories as well as for the formulation of smart traffic controls that minimize congestion.
'Dynamic advisories demonstrated through this collaboration will help people limit their exposure to harmful pollutants.'
Inger Andersen, executive director of the United Nations Environment Programme (UNEP), added: 'Action on air pollution, which is responsible for millions of premature deaths a year, is critical – efforts should focus on high-risk communities, such as people living in informal urban settlements.
'Innovations to reach and engage the local community and decision-makers alike, can only elevate the understanding of the impacts of air quality and help create an enabling environment improve human and ecosystem health.'
Photo by Amani Nation