RHT Industries Limited
RHT is principally an indoor environment air treatment manufacturer that brings to market innovative, sustainable and environmentally friendly products used in a wide range of ever expanding industries and applications. Our products are used in the paint, perfume, air, rail, hotel industries, hospitals, offices and in the home.
Our technology is unique compared to others in the same industry space, where our patented principal air filtration treatment system NCCO has one of the longest lasting life expectancy (up to 12yrs), and at the end of life can easily and safely be disposed of compared to the more commonly used environmentally unfriendly activated carbon filters for instance. NCCO stands for the Nano-Confined Catalytic Oxidation and this unique and innovative technology was developed in collaboration with the internationally renowned Hong Kong University of Science and Technology. It can kill bacteria and viruses as well as removing gaseous pollutants such as Volatile Organic Compounds (VOCs) and odours, converting them to harmless molecules of Carbon Dioxide and Water. In addition, our system also efficiently removes smoke, PM2.5 particulates, yeasts, and allergens.
In the UK we are introducing not only our industrial/commercial air treatment systems, but also to the home with our line of 'b-Mola' branded air treatment systems which use the power of NCCO technology and aided by our 'SMART' app technology.
Due to our highly regulatory compliant technology, our focus over the last two years has been in the European Life Science Sector and in particular hospitals where departments are increasingly affected by toxic and carcinogenic pollutants such as Formaldehyde and VOCs.  We have distribution partners in over 12 European countries and expanding strongly thanks to its uniquely effective, cost-efficient and sustainable technology.
RHT has offices in Hong Kong, North America and Berlin, together with a representative office in the UK. For more information as to how NCCO can help you;
Please visit the following websites –  www.int.rhtair.com  /  www.nanosafe-uk.com  /  www.rhtind.com.hk
Air Treatment Units for Industry and Commerce –  RHT Brand
Air Treatment Systems for the Home –  b-MOLA brand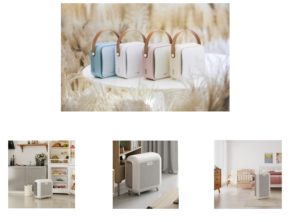 We have a family of units that use our unique NCCO technology and many can be connected to and controlled by our 'SMART' mobile app.