Oxford to bid for new electric buses
Oxfordshire County Council prepares to bid for funding for new electric buses. 
Up to £120m is being made available by the government through the Zero Emission Bus Regional Areas (ZEBRA) scheme, which will allow local transport authorities to bid for funding to purchase zero-emission buses.
The funding will deliver up to 500 zero-emission buses across the country, supporting the government's wider commitment to introduce 4,000 zero-emission buses.
Under the proposals being prepared for an Oxfordshire bid, an area across Oxford city and the surrounding area would be covered by the electric fleet from Kidlington in the north to Sandford-on-Thames in the south, and from Cumnor in the west to Wheatley in the east.
The proposals would cost potentially £78.3m in total, with around £41m coming from the city's two main bus operators (Oxford Bus Company and Stagecoach), £31.68m from the government, and up to £6m from the county council.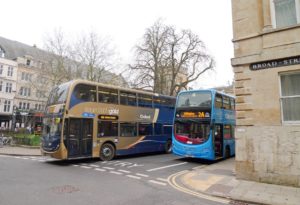 The announcement comes at a time when both city and county councils are set to implement a Zero Emission Zone this August in the city centre.
Cabinet will be asked to approve the submission of an expression of interest for the scheme and agree on funding of up to £6m in 2022/23 towards the scheme when it meets later this month.
Cllr Tim Bearder, Oxfordshire County Council's cabinet member for Highway Management, said: 'This bid marks a step-change in our aspirations. The new alliance now leading the council recognises that zero-emission buses are an essential part of meeting our climate goals. We must also cut air pollution, reduce noise and provide more frequent reliable bus services.
'This ambitious submission to the government's funding competition does all of that. It is an unequivocal demonstration of our commitment and shows that we are prepared to take radical steps to get us there.'
Photo Credit – Supplied