Cleaning up London's air
Joint position statement on air quality and health, by the London Environment Directors Network (LEDNet) and the Association of Directors of Public Health London (AdphLondon)
The COVID-19 pandemic is the biggest public health challenge we have faced globally for almost 100 years. This crisis has surfaced other public health matters that have been exacerbated by the pandemic such as obesity, mental health problems, domestic violence and structural health inequalities. On the other hand, a public health matter that has had short term benefits particularly during the first national lockdown is air quality.
In September 2019, London Environment Directors' Network (LEDNet) and the London Association of Directors of Public Health (ADPH London) prepared a joint position statement on air quality and health to set out how we should respond to this challenge, based on expertise and the available evidence. Since the start of the COVID-19 pandemic, we refreshed the statement to highlight the impact that the first national lockdown had to continue raising this agenda.
Whilst efforts are still mainly focused on the pandemic, we cannot forget the negative impacts of air pollution on Londoners and the UK, especially with the recent Coroner's inquest into the role of air pollution which contributed to the death of nine-year-old Londoner Ella Adoo-Kissi-Debrah, and recommendations to the government to implement legally binding targets for particulate matter (PM2.5).
In London road transport is currently the most significant source of emissions in London, and a key priority for the city, hence efforts like the congestion charge and ULEZ help to reduce transport. According to the Association for Decentralised Energy (ADE), London's homes account for 36% of its CO2 emissions, and every household spends on average £1,175 on gas and electricity bills every year – a total of £3.9 billion. Additionally, workplaces account for 42% of London's emissions, and companies pay a total of £4 billion each year in gas and electricity bills.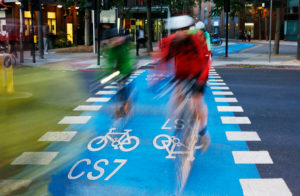 Since the statement was released, the COVID-19 pandemic and the national lockdown for the first wave from March 2020 to June 2020 led to some behavioural change amongst Londoners that contributed to the temporary improvement in air quality, with a reduction in personal vehicle use, road traffic, and an increase in active travel whilst socially distancing.
The pandemic has also highlighted health inequalities, with researchers assessing the potential risk of COVID-19 deaths and air pollution. More studies are needed to understand the impact of the first and subsequent COVID-19 waves, but already there is some learning and long-term behavioural change we can take when we step into the new norm.
Examples include recognising technological development (e.g. the ability to work from home, and travel apps) as a major factor in changing the way in which residents and businesses use transport, and that it can be an ally in reducing air pollution. During and beyond the pandemic, we must look at sustaining behaviours that contributed to the positive changes to air quality where possible and address the health inequalities that have been observed.
We see opportunities ahead in London such as the London Councils 2020 Air Quality Public polling that showed that 78% of Londoners think that tackling air pollution should be a priority. In addition to this, London's commitment to the COVID-19 recovery missions programme, including a Green New Deal to tackle climate and ecological emergencies, and improve air quality by increasing the size of London's green economy by 2030 to accelerate job creation.
In our statement, we have proposed seven key recommendations for local, regional, and national policymakers, environmental lobbyists, public health practitioners, environmental health practitioners, London health and care partners to:
Advocate for at least

2.5% of UK annual GDP

to be spent on tackling air quality and climate change in the UK.
Capitalise on behavioural changes towards active travel during COVID-19 pandemic

, protect Londoners, particularly children and young people from exposure to poor air quality, and

promote further inclusive active travel

.
Support a shared narrative and campaign on air quality and public health impacts across London that will change the public's perception around their own contribution to cleaning our air.
Restrict driving fuelled by petrol or diesel and support cleaner alternatives

by supporting schemes such as the

Ultra Low Emission Zone

(ULEZ), and scrappage schemes and local schemes such as restricted and emissions-based parking, low emissions zones, school streets as well as building better walking and cycling infrastructure. We also want to learn lessons from the implementation of initiatives e.g. Low traffic neighbourhoods, Streetspace for London and School Streets.
Support retrofitting schemes

of London's residential properties to reduce fuel poverty, address health issues caused by inefficient housing and green the economic recovery from the COVID-19 pandemic.
Use

public sector procurement and social value action

to reduce our own contribution to air pollution, in particular by moving faster towards ultra-low and zero emissions vehicle fleets.
Speak with one voice

as boroughs to secure the resources and powers needed to reduce air pollution and protect the health of our residents.
Visit this website to view the full revised joint position – https://adph.org.uk/networks/london/wp-content/uploads/2021/03/ADPH-London-LEDNet-Air-Quality-Joint-Position-full.pdf
We want to hear good practice within and outside London on improving air quality and approaches that align with the recommendations above, and further our understanding on the impact of COVID-19 pandemic on air quality. If you would like to share examples, please contact:
Dimitra Rappou, Principal Policy and Projects Manager, London Environment Directors Network (LEDNet), Dimitra.Rappou@londoncouncils.gov.uk
Vhenekayi Nyambayo, Partnerships and Improvement Lead, London Association of Directors of Public Health (ADPH London), Vhenekayi.nyambayo@adphlondon.org.uk
LEDNet is the membership association for London's Environment Directors. Together, they develop research, trial new interventions and undertake policy advocacy at a regional and national level, to achieve enhanced environmental outcomes, increase adoption of best practice and successful innovation, and deliver more cost-effective outcomes for London residents.
ADPH London – The London Association of Directors of Public Health is the representative body for Directors of Public Health (DsPH) in the UK. It seeks to improve and protect the health of the population through collating and presenting the views of DsPH; advising on public health policy and legislation at a local, regional, national and international level; facilitating a support network for DsPH; and providing opportunities for DsPH to develop professional practice. The Association has a rich heritage, its origins dating back 160 years. It is a collaborative organisation working in partnership with others to maximise the voice for public health.
This article first appeared in the June Air Quality News Magazine.