Researchers to help decarbonise rail travel
Researchers at the University of Southampton will look for ways to reduce the environmental impact of rail travel.
Although rail travel is one of the more energy-efficient forms of transport, it is still a long way from being completely carbon-neutral and electrifying rail travel poses many environmental issues.
Notably, the railway masts that provide electricity to trains, known as Overhead-Line Equipment (OLE) are largely made from energy-intensive galvanised steel.
In a bid to tackle this, the researchers plan to develop new masts made from advanced composite materials that have negative embedded carbon.
The lighter mast would also mean smaller foundations, reducing installation time and cost.
The new masts will also have in-built sensors for internal structural monitoring, making maintenance less labour intensive than the manual checks carried out today.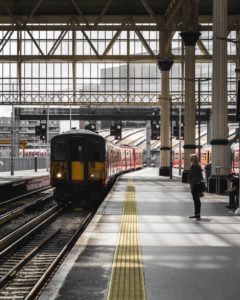 The project proposal has so far gained support from the Network Rail's Research and Development team, and it is hoped the prototype masts will be tested on a Network Rail site pending further approvals.
Professor David Richards, head of the School of Engineering at the University of Southampton, said: 'In the UK, we will need to electrify thousands of kilometres of rail track to meet our 2050 decarbonisation target.
'This project will offer a significant reduction in the mass of the support masts, but the real benefits lie in the cumulative positive effects of reducing the size of the foundations, cutting the cost and embedded carbon involved in reducing transport emissions.
'Decarbonisation of transport infrastructure and the way we use it, to help avert the climate catastrophe, is a major goal and we are proud to contribute to this project.'
The funding competition was focused on developing technology and ideas that can improve journeys for travellers, encourage passengers back onto trains and reduce the environmental impacts of rail.
Now in its fifth round, the competition was open to inventors from across the nation.
Transport Secretary, Grant Shapps, said 'I am delighted to announce the winners of the 2021 First of a Kind competition. These winners will hopefully play a role in putting passengers at the centre of our railways as we build back better from Covid-19.
'The competition always throws up surprises and the ideas shown today could transform how we travel in future.'
Photo by Roman Fox