Start a revolution at the school gate
Nick Ruxton-Boyle, director of environment at Marston Holdings explains why he will be lobbying for a school street outside his son's new school.
My son starts big school in a few weeks and I am very excited to become part of the mystical phenomenon that is the 'school run'. For most of my career, I have indirectly experienced the outpouring of emotion of the school run and have first-hand experience of the passion that parents, schools and residents have for their local streets.
For many years I worked in a London Borough and was responsible for school travel. My mailbox regularly overflowed with letters from parents complaining that they could not park outside their children's schools. I also received many letters from residents who didn't want parents parking outside their houses and from teachers who wanted local parking permits to allow them to drive to work.
We had a well-funded school travel programme, but balancing the diverse needs of these groups was complicated enough without adding local politics into the mix.
We often carried out surveys with students asking how they currently travelled to school and how they would like to. I always felt a sense of satisfaction when pretty much every survey showed that the vast majority of students of all ages would prefer to use active travel modes such as walking and cycling.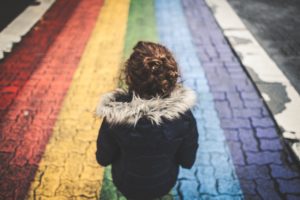 Whilst hyper local impacts of the school run are well documented, new studies are helping us to better understand the impact of pollution, predominantly from cars, on growth and development in the young. Travelling to school by car puts children at risk of exposure to high levels of pollution inside cars as well as the emissions worsening local air quality conditions.
I have heard every excuse under the sun as to why parents drive their children to school. With only a few exceptions, school trips are under 1km and ideal for active travel. Walking and cycling to school also provides physical activity which has significant health benefits and the carbon footprint is next to nothing.
There are many organisations that promote sustainable school travel, and local authorities are now looking to technology to assist. School streets have been around for a few years and temporarily restrict motorised traffic at school drop off and pick up times. These schemes use existing legislation and signage and can be enforced using ANPR cameras in London. The DfT has confirmed that the powers to enforce using cameras will be extended to the rest of England at the end of the year.
These school streets have a positive impact on local air pollution, can address poor health and improve road safety. They also encourage healthier lifestyles and active travel to school for families, leading to a better environment for everyone including parents, teachers and residents.
Most school streets have come about as a direct result of parent and student action and successful schemes engage with the wider community early on to ensure the benefits are co-created and shared.
I am already planning how I am going to lobby my son's new school and am collecting local data and support for a school street. I have worked out where it can start and finish, the times it should operate and where the signs and cameras can go. I've also already been shouted at. Wish me luck!
For further information please contact Nick on 07767 833 034
Photo by Cory Woodward