Manchester's journey to clean air
The Covid-19 pandemic made 2020 an extraordinary year in many respects. Most of its impacts we want to move on from and ensure we never repeat.
But for Manchester, and Greater Manchester, 2020 was also the first year since an array of automatic sensors was first installed across the city region that there were no incidences of legal nitrogen dioxide limits being exceeded.
We have been on an improving trend, but this further decline in pollution levels – associated of course with the steep reduction in traffic brought about by lockdowns and instructions to work from home – was an inspiring reminder of the opportunities we have and how quickly our air quality can improve.
There is no doubt that it needs to: Not because we've been legally mandated to ensure compliance by 2024 but because it's the right thing to do. Air pollution contributes to the deaths of an estimated 1,100 people a year in Greater Manchester – hundreds of them here in the city of Manchester. There's also a proven correlation between the least affluent areas and the areas with the worst air quality which means it's another aspect of the inequality we are determined to tackle.
Manchester is also committed to the goal of becoming zero carbon by 2038, playing its full part in the global battle to limit the effects of climate change. We know from listening to Manchester residents, particularly young people, that this agenda matters deeply to them. But we can't achieve this without cutting emissions. We also know that as we continue to deliver actions to improve air quality, these will support the wider decarbonisation of our transport system.
We don't want 2020 to be a one off – we have a clear vision to deliver this sort of improved air quality for our residents every year.
We are taking significant steps towards that, both through Greater Manchester-wide co-operation and through a range of actions within our own city borders.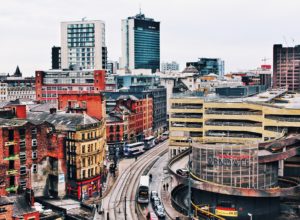 Greater Manchester has a well-established reputation for working together and it makes enormous sense for Manchester City Council and the other nine local authorities to co-operate – via Transport for Greater Manchester – to bring forward a single co-ordinated clean air plan for the city region.
Each council has now approved plans for a Greater Manchester-wide Clean Air Zone – the largest such zone outside London – which will operate 24/7 and charge non-compliant vehicles.
The intention is that this will come into operation from May 2022 for non-compliant buses, HGVs, and for hackney cabs and private hire vehicles licensed outside Greater Manchester. From June 2023 it will also encompass vans, minibuses and coaches and Greater Manchester-licensed taxis.
The Clean Air Zone is not intended to be punitive. The ultimate goal is that everyone has a compliant vehicle and no one is charged. We secured £120m in government funding to help businesses upgrade to cleaner, compliant vehicles. This funding will be available from November.
We want to make it as easy and attractive as possible for people to choose the most sustainable travel options.
Also at a Greater Manchester level, we're bringing forward an Electric Vehicle Infrastructure Strategy which aims to make us a beacon city region by 2030 where residents, businesses and visitors who choose to travel by car or van know they can do so with confidence that they can recharge their vehicles easily and conveniently.
This principle – making it easier to make the most environmentally-friendly travel choices – also underpins the City Centre Transport Strategy, developed jointly with neighbouring Salford. The plan will see 90% of morning peak trips into the centre made on foot, by cycle or on public transport by 2040.
Actions to support this – and encourage sustainable travel across the city – are well advanced. There has been substantial investment in the Metrolink light rail system and significant improvements are on the way for our buses.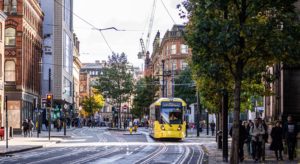 We already have a number of bus corridors in place to make it quicker and easier for buses to bring more people into and out of the city centre, and more are in the pipeline.
Greater Manchester Mayor Andy Burnham, with our full support, has announced that buses will be brought under local control – making Greater Manchester the first city region outside London to operate a fully franchised and locally accountable bus system. By 2025 we can look forward to a fully integrated local transport system.
Substantial investment in active travel schemes is also taking place, with more than £30m currently going into key schemes in Manchester and more in the pipeline. These projects include the Chorlton cycleway, Wythenshawe active travel scheme, Levenshulme and Burnage active neighbourhoods (prioritising pedestrians and cyclists over cars) and the well-received scheme to make more space for walkers, cyclings and public transport in part of the city centre's Northern Quarter. Consultation has recently concluded on plans for Deansgate.
We're looking at other innovative schemes such as creating a mobility hub in Ancoats, on the fringes of the city centre, where an electric car club, EV charging points and and e-cargobikes will be co-located.
Work is also going on at a community level, for example with schools, to support sustainable travel choices. Autumn will see the launch across the city region of a cycle hire scheme to improve access to pedal power.
As well as reducing the sources of pollution, we are also piloting schemes to minimise its effects, such as the Protecting Playgrounds project at four of our schools close to major roads, where planting schemes designed to filter out pollutants are being trialled. This complements the £1m Tree Action MCR programme to improve tree cover across the city.
Investment in green spaces and public realm – the lungs of the city – is also continuing apace. Manchester's first new city centre park for more than 100 years is taking shape at Mayfield and a 46 hectare City River Park will follow at the heart of the the huge new Victoria North development. Further public spaces such as a new memorial garden commemorating the 2017 Manchester Arena terror attack and an expanded and improved Albert Square are also on the way.
Traffic levels have rebounded since Covid-19 restrictions began to be eased and as something like pre-pandemic normality returns it remains to be seen whether 2020's air quality improvements can be replicated this year. But the foundations are in place, and the actions being taken both locally and regionally, for Manchester to continue to deliver improvements – supporting the health, liveability and prosperity of the city and beyond.
This article first appeared in the Air Quality News magazine, which is available to view here.
Photo by Mangopear creative