Phase One complete for the UK's largest EV depot
Phase One is now complete on what is set to be the UK's largest electric vehicle (EV) charging hub.
The depot has been designed to accommodate up to 300 electric buses and charge a standard family car in less than 10 minutes.
With phased completion for the remainder of the work scheduled to take place across the next 12 months, each rapid charging station will be controlled via smart charging software to ensure that power is used in the most efficient way. This approach will help to minimise the drawdown from the national grid at peak times.
The digital programming will also mean that each vehicle is fully charged, and the bus interiors are preheated, ready for drivers and customers from the moment the vehicles leave the depot.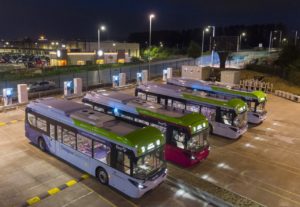 Janette Bell, managing director for First Bus UK said: 'Innovative technology and electric infrastructure are key to minimising the UK's carbon emissions, and so it's fantastic to see this first step of our vision for the UK's largest EV bus depot come to fruition. Our transition to a zero-emission fleet is a bold ambition, and at every stage, First Bus is committed to transforming our business for the good of the environment.
'We're proud to be putting our weight behind Scotland's green ambitions and the completion of this first phase of works at Caledonia depot give us an exciting glimpse into the future of bus. To see this first EV charging station site completed and ready to go in Glasgow, just as the city prepares to host COP26 later this year, is a brilliant achievement.'
Following completion, the adapted depot will have the capability to charge 89% of the depot's electric bus fleet at the same time using smart charging software.
First Bus' long-term objective is to ensure that the site is fully prepared for the transition to a 100% zero-emission fleet. This will include opportunities for further on-site renewable energy generation and storage.
The depot transformation is being delivered thanks to over £63m of funding: First Bus is investing £35.6m into the project, while the Scottish Government's Scottish Ultra-Low Bus Scheme (SULEB) is funding a further £28.2m.