The U.S 'systematically underestimates' the health impacts of wildfires
Smoke from wildfires can affect people across larger geographic regions than previously thought, according to a new study published in GeoHealth.
Exposure to smoke from wildfires or local burning contributes to a wide range of health problems. However, according to a new study, the health impacts are not always felt exclusively where the burning takes place.
To understand the impact, researchers from the American Geophysical Union estimated the fraction of asthma hospital visits and hospitalisations resulting from particulate matter (PM2.5) in smoke across the U.S. from 2006 to 2018.
They used existing data on asthma hospital visits and daily local estimates of PM2.5 based on readings from instruments at ground level and satellite data showing the location of smoke in the atmosphere.
They found that in the West, where population density is generally lower and smoke concentrations are typically higher, smoke contributed to more than 1% of annual hospital visits.
In the East, where population density is high and smoke concentrations are lower, there were a higher number of hospital visits overall.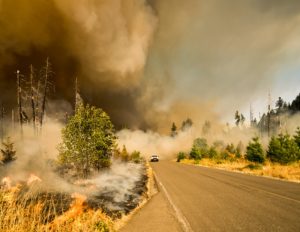 The researchers estimate that in the U.S. long-term smoke exposure results in about 6,300 extra deaths each year, with the highest numbers occurring in the most populous states.
Atmospheric scientist and first author of the study Katelyn O'Dell said: 'Large wildfires are projected to increase in frequency and burned area in the Western U.S. Because of that and projected decreases in urban-sourced PM2.5, fires are expected to become the dominant source of PM2.5 in the U.S. by the end of the century.
'We wanted to study the impacts of wildfire smoke specifically on health so we can better prepare for that future when we expect to have more smoke in our lives.
'The conclusion of the study is important. We systematically underestimate the real public health impact of wildfires, which is related to smoke. And smoke can travel very, very far away.'
Photo by Marcus Kauffman