Shipping industry to pay for pollution under new EU proposals
New EU proposals will make the shipping industry pay for pollution and fossil fuels use.
Under the proposed Maritime Emissions Trading System (ETS), shipping companies will have to buy carbon credits for their pollution on voyages within Europe and for 50% of their emissions when travelling between EU and non-EU ports.
Faig Abbasov, shipping programme director at campaign group Transport & Environment, said: 'The EU is finally making shipping polluters pay. Now lawmakers need to defend a carbon market that covers extra-European voyages so that the biggest shipping companies are not let off the hook.
'The ETS revenues should be reinvested in deploying zero-emission vessels, port charging, and hydrogen refuelling infrastructure.'
However, the campaign group has expressed concern that without clear guidance, the new proposals could lead to more than half (55%) of the energy used by ships calling at EU ports being LNG and biofuels by 2035.
This is despite LNG offering minimal emissions reductions and releasing methane.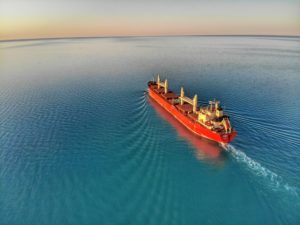 Under different legislation, the European Commission has also proposed a new infrastructure law requiring major ports to spend billions installing gas refuelling infrastructure for ships.
T&E has warned that this is helping to lock in decades of fossil fuel burning because it does not incentivise or require the deployment of sustainable e-fuels.
Faig Abbasov added: 'The World Bank, IEA, shipyards and shipowners now recognise the pivotal role of green hydrogen in decarbonising shipping.
'The Commission remains the only major institution still recklessly pushing the industry to invest in LNG ships that will lock us into decades of further pollution and stranded assets. Governments and MEPs need to shift the focus onto promoting renewable hydrogen and ammonia instead.'
In related news, in the latest magazine, Air Quality News investigated the true air pollution cost of our online shopping habits.
Photo by Chris Pagan