Researchers can now predict the impact of wildfire smoke
Scientists can now predict when and how wildfire smoke will affect residents.
Over the past few weeks, numerous wildfires have engulfed parts of Greece, the US and Canada, and as a result, many areas have experienced some of the worst levels of air pollution in the world.
Smoke from wildfires produces particulate matter (PM2.5) pollution, which can adversely affect a person's health, particularly those with lung and heart conditions, diabetes, older adults, younger children and pregnant women.
However, until now, researchers have had a difficult time predicting how gravely the smoke will affect people's health.
A team of researchers led by the University of Utah have now developed a method of combining meteorological models with NASA satellite data to determine whether wildfire smoke will stay high up or come down to the ground.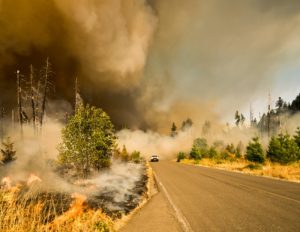 This will help to lead to more accurate predictions of whether and when smoke from a nearby wildfire could reach people on the ground.
With this new information, the researchers believe that meteorologists, climatologists or air quality experts could possibly predict up to two or three days in advance whether smoke from a wildfire will affect the health of residents in a nearby city.
Heather A Holmes, lead author of the study said: 'Our hope is this technique gets incorporated into smoke forecasting as a way to improve warning systems related to smoke exposure.
'There's a lot of uncertainties in understanding the vertical mixing in the atmosphere, and that really drives where the smoke will end up. If you can forecast this, you can make more informed decisions on whether to have school closures, or you can give alerts on when to not go outside to exercise. You can give people information to protect themselves better.'
In related news, forest fires in the Amazon released more energy than some of the world's most polluting countries, according to a new study conducted by researchers at the University of Lancaster.
Photo by Marcus Kauffman