Cargo bikes – The Future of Zero Emission Last-mile Deliveries
Cargo bike deliveries have occurred for well-over 100 years in London, and recent growth has led to a wider variety of cycle logistics activity across central locations.
With incentives to improve air quality and reduce congestion on the capital's road network, cargo bikes are fast becoming a permanent feature of the logistics landscape.
Their use benefits not only the health of residents, businesses and visitors, but also improves delivery efficiently, customer satisfaction, and overall reduces carbon emissions to support London's target of becoming a carbon-neutral city by 2030.
Now more than ever, businesses are choosing to distribute their goods and services straight to the customer.
With the rise of e-commerce, next-day home delivery, and working from home status, exacerbated by the Covid pandemic and subsequent lockdowns, logistics companies are now adapting to sustainable delivery practises that meet demand whilst also providing clear air.
With traffic levels returning to near pre-pandemic levels, now is the time to foster a last mile cargo bike delivery revolution and prevent a return to poor air quality which contributes to 9,400 premature deaths each year in London alone, at a cost of £1.4 – £3.7 billion to the health service.
Cross River Partnership's (CRP) Defra-funded Clean Air Villages 3 (CAV) Project is a collaboration between 12 London boroughs and 4 Business Improvement Districts to deliver air quality improvements in locations across London where both air pollution and footfall levels are high.
Since April 2020, the project has launched 7 cargo bike schemes, supporting food banks, pharmacies, charities and local businesses in delivering essential items to those in need during lockdowns. 596 miles have been covered by cargo bikes to date, resulting savings of 204kg of CO2, 733g of NOx, and 20g PM10, benefitting people's health and wellbeing.
Ecofleet are one of the London-based last-mile delivery companies working with CRP as part of the free e-cargo bike schemes available across Richmond, Tooting, Wimbledon, Deptford, Soho and The Northbank. CRP is also working with another zero-emission operator, Zedify, on a cargo bike scheme in Seven Sisters, Haringey.
Each of Ecofleet's e-cargo bikes has a large 623L capacity and a 120-mile battery range meaning a huge variety of goods can be transported at minimal cost, time, and hassle to the customer. Ecofleet have completed more than 1,200 miles worth of journeys for the CAV project, which translates to over zero-emission 800 deliveries!
30 businesses and community groups have so far benefitted from using the scheme, from market traders and grocery stores to paint shops, charity organisations, and pharmacies.
Overall, the schemes have been a lifeline to businesses under lockdown, providing a zero-emission, local delivery service for shops that introduced home-delivery options to reach customers who would otherwise be visiting in person.
Local paint shop RV Tass, based in East Twickenham, was one of the first to use one of the new cargo bike schemes and has been delivering orders using the free hours paid for by the project.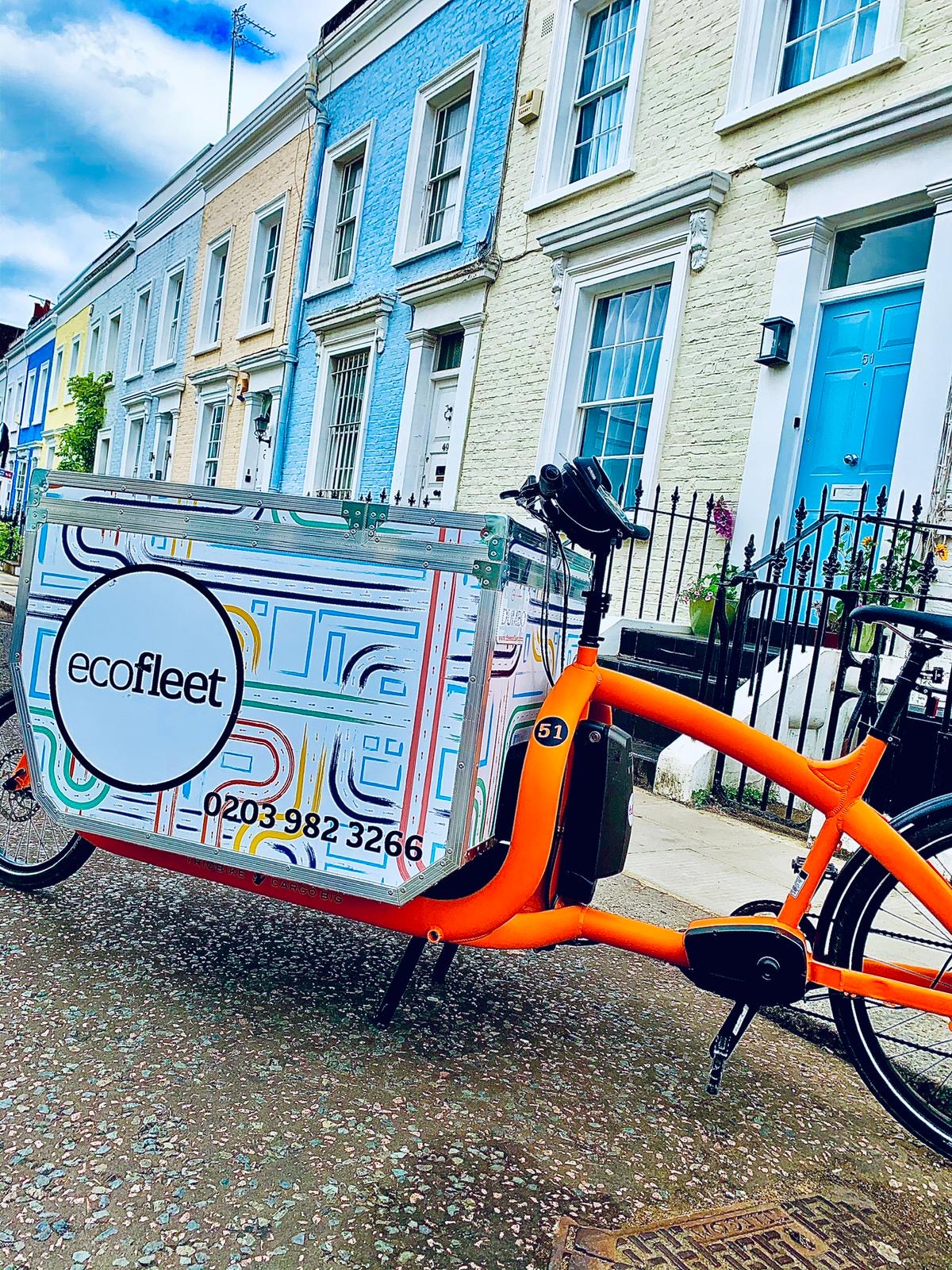 Matt Allard, Owner of RV Tass, said – 'It's a unique and eco-friendly way to have paint delivered to your door. Our customers have loved it.'
Every business that uses the cargo bike schemes also qualify to feature on CRP's Clean Air Villages Directory, which lists and promotes businesses across London who are delivering their goods using ultra-low emission vehicles, cargo bikes or by foot.
All of the Clean Air Villages have the potential to be first-class clean air destinations for the future and the new cargo bike schemes are supporting a green recovery from the pandemic to enable businesses to continue trade in these challenging times, whilst creating cleaner air for all.
Farah Asemi, Ecofleet CEO & Founder, said – 'We are proud to have made a small difference in reducing congestion and pollution in London. Without CRP's support our journey would have been much more difficult. We are only at the beginning of the road and are excited about our expansion plans in 2021 and beyond.'
Kate Fenton, Cross River Partnership CAV Project Manager, said – 'Using a cargo bike means cleaner journeys. Cleaner journeys mean cleaner air for all. The Defra Air Quality Grant has enabled the highly collaborative Clean Air Villages project to take place and CRP is pleased to be able to work with Ecofleet and Zedify to support our communities.'
Photo Credit – Ecofleet