CAZs have far-reaching air pollution benefits, new data reveals
The true 'reach' of Clean Air Zones goes far beyond the boundary, according to analysis conducted by the Environmental Defence Fund (EDF).
In 2019, London launched the first-ever Clean Air Zone for nitrogen dioxide (NO2) known as the Ultra Low Emission Zone and in March 2021, nearly the entire capital became a NO2 Clean Air Zone (CAZ) for heavy-duty vehicles.
As a result of this, by the end of 2020, an average of more than 92% of heavy-duty vehicles met these air quality standards.
To examine the 'reach' of Greater London's CAZ for heavy-duty vehicles, EDF analysed a dataset produced by INRIX, which represents trips in a sample week.
Looking at data from September 2019, EDF found that heavy-duty vehicles drove further outside of the zone than within – on average twice as much distance.
The below map reveals how – in just one week – large vehicles that were subject to the emissions standards were consistently driving many kilometres outside of London.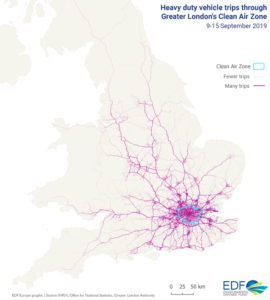 The researchers also found that the vehicles passed through nearly 95% of major towns and cities in England and Wales, which together have a combined population of 18 million people.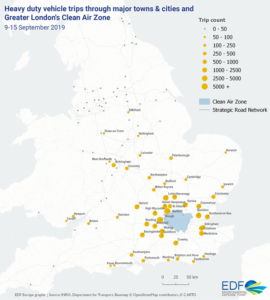 Based on this research, EDF has highlighted that people living and working outside Greater London's Clean Air Zone, even as far as Cardiff and Stoke-on-Trent, also benefit from the cleaner vehicles and reduced emissions brought about by the zone.
As a result, they have highlighted that city-level policy and the introduction of Clean Air Zones can benefit the health of people throughout the UK.
In related news, the majority of Londoners support the expansion of London's Ultra-Low Emission Zone (ULEZ), according to a new survey commissioned by environmental law charity ClientEarth.