Fireworks lead to a spike in air pollution, new study
Fireworks have a direct correlation with poor air quality, according to researchers at the University of California.
Looking at real-time air quality measurements throughout California, the scientists found that short-term, extremely high levels of particulate matter (PM2.5) pollution was common during the Fourth of July holiday season.
'These fine particles are known to cause a wide range of adverse health effects, including premature mortality, respiratory and cardiovascular diseases, adverse pregnancy outcomes, and neurological diseases,' co-author Jun Wu said.
The researchers found that among all 58 Californian counties, Los Angeles experienced the highest daily PM2.5 levels.
The researchers have said this was likely due to a larger number of individuals shooting off their own rockets in neighbourhoods where they live.
In addition, the researchers have said they detected a Covid-19 effect in their data.
PM2.5 concentrations on July 4 and 5 in 2020 were, on average, 50% higher than in 2019, likely due to the increased use of household-level fireworks during the pandemic lockdowns.
The team also learned that peak fireworks pollution was two times higher in communities with lower socioeconomic status, larger minority-group populations and higher asthma rates.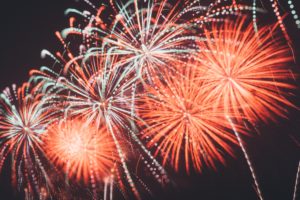 Lead author of the study, Amirhosein Mousavi, a postdoctoral scholar in Public Health said: 'The PurpleAir network includes sensors that monitor air continuously, which offers advantages over the traditional monitoring installations that are often positioned away from residential areas and take intermittent measurements that may misspeak days such as the Fourth of July.
'By taking data from a large, distributed sensor network that's always collecting data in neighbourhoods where people from various socioeconomic profiles live, we were able to get a much clearer characterization of the health risks posed by do-it-yourself fireworks.
'This work highlights the important role that policy and enforcement can play in reducing fireworks-related air pollution and protecting public health.
'As there is a patchwork of different restrictions and regulations regarding fireworks in our state, it's clear that a more coordinated approach would help people breathe easier during times of celebration.'
Photo by Joseph Chan