Aecom will monitor air quality across Greater Manchester
Consultancy firm Aecom will measure air pollution at 450 locations across Greater Manchester.
Thanks to a new eight-year contract, the firm will collect pollution samples from each monitoring site every month. They will then analyse this data in order to assess the effectiveness of Greater Manchester's Clean Air Plan.
Aecom is also part of the Clean Air Plan Lead Advisor team appointed by Transport for Greater Manchester. This gives them responsibility for the civil infrastructure designs of the Clean Air Zone.
Tom Stenhouse, technical director at AECOM, said: 'Air quality monitoring plays an important role in tackling air pollution, providing valuable data to ensure the right measures continue to be taken to improve air quality.
'One of the largest monitoring programmes we have undertaken, our work with TfGM covers a huge geographical area and will help develop a detailed understanding of changing air quality in Greater Manchester as the region progresses efforts to bring down emissions associated with transport.'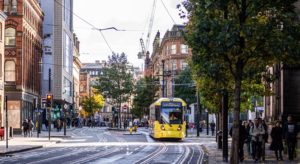 Greater Manchester lead for Clean Air, Cllr Andrew Western, added: 'We, as a city region, are committed to tackling air pollution, which is the biggest environmental public health issue facing us and contributes to around 1,200 deaths in Greater Manchester alone each year.
'That's why we have developed a Clean Air Plan that not only helps us meet government requirements on nitrogen dioxide air pollution and delivers major health benefits for our residents; but also delivers the funding support for those businesses, individuals and organisations who need to upgrade their vehicle to become compliant.
'We are looking forward to working with AECOM to help us deliver the plan, improve the quality of our air and ensure Greater Manchester continues to be a healthy, sustainable and happy place to grow up, get on and get old.'
Photo by Mangopear creative