Team appointed to design British EV chargepoint
The Royal College of Art and PA have been appointed to deliver a British electric vehicle (EV) charge point design that will be as recognisable as the red post box or black cab.
The design will be unveiled at COP26 in Glasgow in November and could be seen on streets across the country from 2022.
The charge points will be functional and accessible for all users, with sustainability at the heart of the design, and the government hopes that the roll-out will allow chargepoints to be more recognisable for drivers, helping to create awareness around the transition to EVs.
The government is calling on countries across the world to accelerate the transition to electric vehicles in the lead up to COP26, as independent statistics from Zap-map reveal that there are now over 25,000 public charging devices across the UK.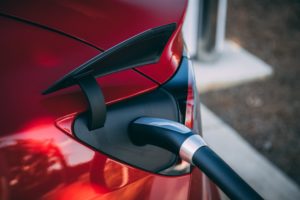 Transport secretary, Grant Shapps, said: 'Excellent design plays a key role in supporting our transition to zero-emission vehicles, which is why I want to see EV chargepoints that are as iconic and recognisable as the British phone box, London bus or black cab.
'With less than three months to go until COP26, we continue to put the UK at the forefront of the design, manufacture and use of zero-emission vehicles and their charging infrastructure, as we build back greener and call on countries around the world to similarly accelerate the transition to electric vehicles.'
Warwick Goodall, transport and net-zero mobility expert at PA, said: 'We know that excellent design has the power to dismantle barriers to growth and simplify the user experience, making the switch to electric vehicles more attractive, accessible, affordable and secure for drivers.
'PA has a strong legacy in product design, which is an integral part of our world-leading end-to-end innovation capability. The combination of PA's world-class design team and the Royal College of Art (RCA) brings the creative expertise to re-imagine the EV charge point as an iconic piece of British street furniture.
'We look forward to working together with the public and industry on a design framework that will accelerate the Chargepoint rollout ambitions and bring to life the electric vehicle revolution on our streets.'
In related news, work to install a high-powered underground cable that will deliver electricity to a new public electric vehicle (EV) charging hub at Redbridge Park & Ride in Oxford will begin next week.
Photo by Vlad Tchompalov