BAME communities are more likely to live in areas with toxic air
Black, Asian and Minority Ethnic communities in London are more likely to live in areas with toxic air, new data reveals.
The research, which was commissioned by City Hall shows that communities that have higher levels of deprivation, or a higher proportion of people from a non-white ethnic background, are more likely to be exposed to higher levels of air pollution.
In light of this data and ahead of the expansion of London's Ultra Low Emission Zone alter this month, Sadiq Khan has launched a new Breathe London community programme to reduce this pollution.
Community organisations are invited to apply for a free air quality sensor to be installed in a location of their choice, providing real-time hyper-local data
The programme aims to reach communities that research shows have poor air quality and lack access to green space.
The sensors are being provided to some community groups and boroughs free of charge, but for the first time, Breathe London air quality monitoring sensors are also now available to purchase directly by organisations and individuals wishing to monitor air quality in their local area, measure the impact of existing schemes to improve air quality or help communities lobby for action in areas with high levels of toxic pollution.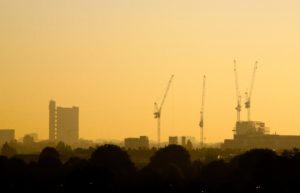 The Mayor will also provide two sensors for the South Circular which will be installed in collaboration with Rosamund Adoo-Kissi-Debrah, co-founder of the Ella Roberta Family Foundation.
Sadiq Khan, said: 'We know toxic air pollution in London stunts the growth of children's lungs and worsens chronic illnesses, such as asthma. Now our new research confirms that those exposed to the worst air pollution are more likely to be Londoners living in deprived areas and Black, Asian and Minority Ethnic communities.
'The bold action we have taken since I become Mayor has reduced this gap by up to 50 per cent, but there's still a long way to go. That's why I'm more determined than ever to do everything we can in London to consign air pollution to the history books. A key step will be the expansion of the world-first Ultra Low Emission Zone up to the North and South circular roads, starting on 25 October, which will improve the health of all Londoners and help us deliver a cleaner, greener and fairer city.
'The new air quality sensors we are announcing today with Bloomberg Philanthropies is an important part of our work to raise awareness of toxic air pollution across London, making it easier for Londoners to monitor air quality in their local area.'